Story and Picture below received from Sandy E. via email:
—
We have safety talks several times every day at the project site. We even start every single meeting with a short safety topic talk given by someone attending the meeting. We can't go on with the meeting until someone comes up with a topic and volunteers to talk briefly about it.
One of the talks was the recommendation to always conduct a CIRCLE OF SAFETY walk before driving away in your vehicle, whether it be a personal or work vehicle. This means you simply walk once around the vehicle and look for anything unsafe or unusual, a low tire, a loose piece of trim, a damaged light, or countless other things that could be found – just in case.
A road construction crew working for another company stopped at a convenience store along the highway on break. Look at the photo below. As you can see in this picture, this young child somehow crawled into the wheel well of the truck and got stuck. When the crew got ready to leave, they found this child while conducting a CIRCLE OF SAFETY of the company truck they were driving.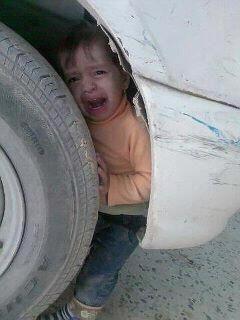 It's sickening to think about what would have happened if the crew had gotten in the truck and drove off without doing a walk around.
This crew has also reported children climbing into the back of company vehicles. Keep in mind children will be out of school on summer break soon so be sure to watch out for them!
For this reason, and countless others, please remember to do the vehicle CIRCLE OF SAFETY before driving off in your vehicle.