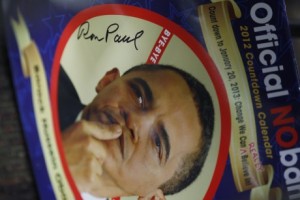 A great article from the progressive writer Glenn Greenwald.  Reading his work give me hope that there are some serious journalists left!  (I don't agree with all of Greenwald's philosophy, but I greatly respect him for his viewpoints, honesty, and hard-core defense of liberty)
Progressives and the Ron Paul fallacies – Glenn Greenwald – Salon.com
my snippets:
America's election season degrades mainstream political discourse even beyond its usual lowly state. The worst attributes of our political culture — obsession with trivialities, the dominance of horserace "reporting," and mindless partisan loyalties — become more pronounced than ever. Meanwhile, the actually consequential acts of the U.S. Government and the permanent power factions that control it — covert endless wars, consolidation of unchecked power, the rapid growth of the Surveillance State and the secrecy regime, massive inequalities in the legal system, continuous transfers of wealth from the disappearing middle class to large corporate conglomerates — drone on with even less attention paid than usual.
Because most of those policies are fully bipartisan in nature, the election season — in which only issues that bestow partisan advantage receive attention — places them even further outside the realm of mainstream debate and scrutiny. For that reason, America's elections ironically serve to obsfuscate political reality even more than it usually is.
…
I'm about to discuss the candidacies of Barack Obama and Ron Paul, and no matter how many times I say that I am not "endorsing" or expressing support for anyone's candidacy, the simple-minded Manicheans and the lying partisan enforcers will claim the opposite.
…
the point that she's making is important, if not too subtle for the with-us-or-against-us ethos that dominates the protracted presidential campaign: even though I don't support him for President, Ron Paul is the only major candidate from either party advocating crucial views on vital issues that need to be heard, and so his candidacy generates important benefits.
…it is indisputably true that Ron Paul is the only political figure with any sort of a national platform — certainly the only major presidential candidate in either party — who advocates policy views on issues that liberals and progressives have long flamboyantly claimed are both compelling and crucial. The converse is equally true: the candidate supported by liberals and progressives and for whom most will vote — Barack Obama — advocates views on these issues (indeed, has taken action on these issues) that liberals and progressives have long claimed to find repellent, even evil.
… "the anger [Paul] inspires comes not from his positions, but from the tensions that modern American liberals bear within their own worldview." Ron Paul's candidacy is a mirror held up in front of the face of America's Democratic Party and its progressive wing, and the image that is reflected is an ugly one; more to the point, it's one they do not want to see because it so violently conflicts with their desired self-perception.
The candidate supported by progressives — President Obama — himself holds heinous views on a slew of critical issues and himself has done heinous things with the power he has been vested. He has slaughtered civilians — Muslim children by the dozens — not once or twice, but continuously in numerous nations withdrones, cluster bombs and other forms of attack. He has sought to overturn a global ban on cluster bombs. He has institutionalized the power of Presidents — in secret and with no checks — to target American citizens for assassination-by-CIA, far from any battlefield. He has wagedan unprecedented war against whistleblowers, the protection of which was once a liberal shibboleth. He rendered permanently irrelevant the War Powers Resolution, a crown jewel in the list of post-Vietnam liberal accomplishments, and thus enshrined the power of Presidents to wage war even in the face of a Congressional vote against it. His obsession with secrecy is so extreme that it has become darkly laughable in its manifestations, and he even worked to amend the Freedom of Information Act (another crown jewel of liberal legislative successes) when compliance became inconvenient.
He has entrenched for a generation the once-reviled, once-radical Bush/Cheney Terrorism powers of indefinite detention, military commissions, and the state secret privilege as a weapon to immunize political leaders from the rule of law. He has shielded Bush era criminals from every last form of accountability. He has vigorously prosecuted the cruel and supremely racist War on Drugs, including those parts he vowed during the campaign to relinquish — a war which devastates minority communities and encages and converts into felons huge numbers of minority youth for no good reason. He has empowered thieving bankers through the Wall Street bailout, Fed secrecy, efforts to shield mortgage defrauders from prosecution, and the appointment of an endless roster of former Goldman, Sachs executives and lobbyists. He's brought the nation to a full-on Cold War and a covert hot war with Iran, on the brink of far greater hostilities. He has made the U.S. as subservient as ever to the destructive agenda of the right-wing Israeli government. His support for some of the Arab world's most repressive regimes is as strong as ever.
Most of all, America's National Security State, its Surveillance State, and its posture of endless war is more robust than ever before. The nation suffers from what National Journal's Michael Hirsh just christened"Obama's Romance with the CIA." He has created what The Washington Post just dubbed "a vast drone/killing operation," all behind an impenetrable wall of secrecy and without a shred of oversight. Obama's steadfast devotion to what Dana Priest and William Arkin called "Top Secret America" has severe domestic repercussions as well, building up vast debt and deficits in the name of militarism that create the pretext for the "austerity" measures which the Washington class (including Obama) is plotting to impose on America's middle and lower classes.
…The parallel reality — the undeniable fact — is that all of these listed heinous views and actions from Barack Obama have been vehemently opposed and condemned by Ron Paul: and among the major GOP candidates, only by Ron Paul.   …  all the other major GOP candidates either agree with Obama on these matters or hold even worse views.  …  Paul scrambles the comfortable ideological and partisan categories and forces progressives to confront and account for the policies they are working to protect. His nomination would mean that it is the Republican candidate — not the Democrat — who would be the anti-war, pro-due-process, pro-transparency, anti-Fed, anti-Wall-Street-bailout, anti-Drug-War advocate.
…progressives frequently ask: how can any progressive consider an anti-choice candidate but don't ask themselves: how can any progressive support a child-killing, secrecy-obsessed, whistleblower-persecuting Drug Warrior?
…
There are very few political priorities, if there are any, more imperative than having an actual debate on issues of America's imperialism; the suffocating secrecy of its government; the destruction of civil liberties which uniquely targets Muslims, including American Muslims; the corrupt role of the Fed; corporate control of government institutions by the nation's oligarchs; its destructive blind support for Israel, and its failed and sadistic Drug War. More than anything, it's crucial that choice be given to the electorate by subverting the two parties' full-scale embrace of these hideous programs.
…
Still, for better or worse, Paul — alone among the national figures in both parties — is able and willing to advocate views that Americans urgently need to hear.