I wanted to post some basic information about camera systems because several people have asked me about them today. There is a wide range and variety of systems available. The one I choose was based on these things attributes:
very inexpensive
satisfaction warranty (through Costco)
night vision camera
ability to view cameras from computer, Internet, and mobile phone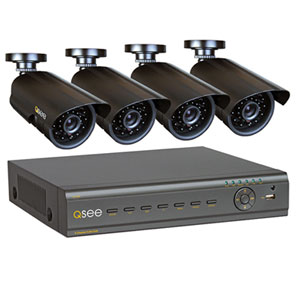 The system I purchased is the Q-See QT425. It was on sale at Costco for $270.  It comes with the 500GB DVR and 4 day/night cameras, and everything you need — even the cables to connect the cameras to the DVR.  Here are some of the features:
view video, playback, setup, and most everything from a web browser anywhere from the Internet
connects to VGA monitor or TV via composite signal
view live video and alarms from smartphone
sends out alert emails with snapshot pictures when motion is detected
cameras have infrared LEDs to effectively view area in complete darkness
Installation is pretty simple.  You figure out where you want the cameras, mount them, then figure out how to get the cable between the DVR and the camera.  Setting up the DVR is probably a little complicated for non-techie types (configuring Internet router ports, dynamic DNS service).  The web interface only works with Active X, so you have to use Microsoft Internet Explorer.  Everything seems just a little buggy and unrefined, and pretty cheap quality, but for the money I spent, I couldn't be happier.  The worst thing about it is that I'm forced to use a Microsoft product daily now.
Out of the box, the DVR is set to record while motion is detected, but you can change to record based on external motion sensors or other external triggers.  You can also tweek how the motion is detected for each camera, and the schedule that recording and/or motion is detected.  If you want to spend a little extra money for the cameras, the DVR will also control pan/tilt/zoom functionality.  The machine keeps a list of 'events' (like motion) that you can review and watch the video for later, and of course download the video and take snapshots of the screen.  Ok, I think that is it.  Everyone should have some cameras around their house, you never know what you might find or what crime you might prevent!