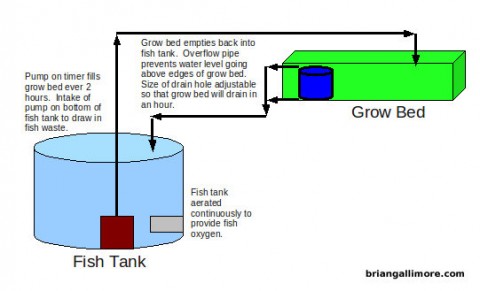 I've been talking about hydroponics and aquaponics for years now.  (and now that I understand the biology a little more, I'm not even considering hydroponics anymore)  I think it is time I finally implement my first solution.  I'll use this post to document what I want and where I'm going to get it from.   (so it will change over time)
Style:  Flood and Drain beds w/ gravel.  Cold-water fish.  Electric pump.
Tank:  plastic stock tank.  110 gallon TSC SKU Number: 2229862
aquarium air pump w/ bubbler stone to oxygenate water all the time
submersible pond pump (eventually to be replaced with marine air conditioner pump), operated on an electrical cycle timer.
Grow Beds:  made from 2by lumber, lined with pond plastic, filled with stone gravel (13mm) that doesn't change pH.  (crevices are desirable)  Height: waist level.  No auto-siphon is needed since I'm using a pump on a timer.  Growbed Size: 4′ x 5′ x 12″  Red wiggler earthworms will be placed in the grow bed to further digest solid fish waste into plant nutrient.  Sloped slightly.  Min depth= 12 inches
water test kit – ammonia, nitrites, nitrates, oxygen, pH, temperature
Resources:
Blog entries and e-book from synaptoman
http://backyardaquaponics.com/
http://www.urbanaquaponics.com/
Multi-part how-to article from growing edge
Improved auto-siphon valve (Affnan's bell valve)
from http://www.urbanaquaponics.com/content.php?129-Oxygen-Sizing-your-Aquaponic-Air-System:
1/2 lb of oxygen per lb of feed fed to fish (for home systems)  (1lb oxygen / feed is safer)
23% of air is oxygen by weight (21% by volume) – 1 cubic foot of air weighs 0.075lbs
efficiency of transferring oxygen into water is ~ .5 (standard)
system design tool  http://www.aquaponic.com.au/backyard.htm
rules of thumb: http://theaquaponicsource.com/rules_of_thumb.php
1lb of fish per 5-7 gallons of water
1lb of fish for every 1 sq ft of grow bed surface (minimum 12″ depth)
LECA (Lightweight Expanded Clay Aggregate, AKA Hydroton), Lava Rock, and Gravel are the most widely used media types.  If you choose gravel, understand it's source and avoid limestone and marble as they could affect your pH.
cycle time: 15 minutes on, 45 minutes off
flow the entire volume of fish tank through grow bed every hour (100 gallon tank will need a 400 GPH pump, adjusted for required lift)
feed fish as much as they will eat in 5 minutes.  (1% of body weight for adult, 7% for fry)
add red worms to gravel after fish are established
target pH is 6.8, to 7.0.  test weekly
aeration rules of thumb: http://aquaponicscommunity.com/forum/topics/design-numbers
1 CFM (28 L/M)of air for each 400 gallons of fish tank
need 1 psi to push air through the air stone
need 1 psi to push air down 28 inches of water
http://www.growingedge.com/aquaponics-%E2%80%9Chow-to%E2%80%9D-%E2%80%93-part-one-why-aquaponics-and-what-type-of-system
http://www.growingedge.com/aquaponics-%E2%80%9Chow-to%E2%80%9D-part-2-grow-beds-and-fish-tanks
http://www.growingedge.com/aquaponics-part-5a-%E2%80%93-starting-up-your-aquaponics-system-using-fish
start with a few fish to attract the bacteria — test daily – if too high, exchange 1/3 of the water with fresh de-chlorinated water.
adjust pH by .2 per day maximum
use product "pH Down" –sold at hydroponics stores
to raise pH: alternate calcium hydroxide – also known as "hydrated lime" or "builder's lime" with potassium carbonate (or bicarbonate) or potassium hydroxide ("pearlash" or "potash"). Don't use citric acid as it is anti-bacterial!