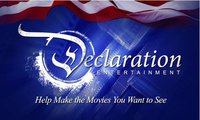 My favorite writer/actor at PJTV Bill Whittle has started something new called Declaration Entertainment.
This appears to be a CSA-style answer to the problem of Hollywood's value system being at odds with most American's value system. Being a member lets you have input and ownership into the movies that get made.
Modern tools like this one made possible by the Internet will hopefully help liberty and freedom win the fight against the dark goals of huge corporations and power hungry elites.