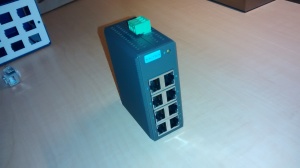 I am on a quest to convince people, especially controls and automation people, to stop crimping RJ-45 ends on Ethernet cables. Everyone else in the world terminates Ethernet to a punchdown block jack and then uses a pre-tested, pre-molded patch cable to connect to the device. The reason to avoid crimping on the RJ-45's is that it is difficult to reliably crimp the ends on correctly, especially if you have to use an electrician who would rather be bending 3″ rigid conduit and is trying to use the Mickey Mouse crimp tool he bought at the dollar store.
It's easy if you already have a 19″ rack, but what do you do inside a panel? Several options:

1) DINSpace (Addison Texas) makes a DIN rail mountable metal box with 12 keystone holes. (p/n SNAP-Cu-12).  It comes with 12 shielded hinge-IDC jacks and a crimp tool, but it looks like it will accept any standard keystone jack.  $150
2) PANDUIT makes a line of DIN rail mount boxes with 8 keystones or 8 of their mini-com connectors.  I think the mini-com jacks are better, but they are $20 each, so the 8 ports with the box wind up costing over $260.  (p/n CDPP8RG and CJ688TGIG)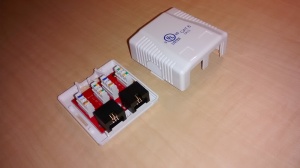 3) Surface-mount box with punch-down blocks.  There are several versions of these including one from PANDUIT that accepts the mini-com jacks, but it is hard to beat the ones from monoprice.com.  (p/n 7093) They cost less than $3 and will ship out same day.
4) Similar to the above surface mount box is a surface mount box that accepts a keystone jack. (less than $1 monoprice.com p/n 7088)
5) Just use a standard electrical box, keystone faceplate, and keystone jacks.  These are now sold at the home improvement stores.
6)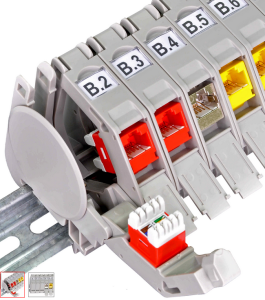 DIN rail mounted keystone jacks ($3 SIGNAMAX p/n KI-DIN-RMM-SL)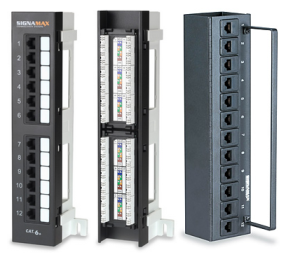 7) Vertical mini patch panel ($50 SIGNAMAX p/n 12458MH-C6C)
For the patch cables, it pays off to just order a bunch from monoprice.com instead of trying to buy them off the shelf somewhere.  You can order 20% more than you need, and pay for next day shipping and still probably be cheaper than buying them from a regular store.  (about $1 each — but don't get the regular boot because you can't squeeze them to get it off, get the flexboot style)