It doesn't seem right to have a rifle without a sling.  The world's most popular rifle, the Ruger 10/22 doesn't have swivel studs
or other provisions for mounting a sling.  Adding swivel studs is easy if you have the wood stock, like the one on my Liberty Training Rifle, but the plastic had me scratching my head.  Searching around on the forums to find out what other people do, I see it is common to use a machine thread on the front and wood thread on the rear with added epoxy for strength.  I had an extra kit like the one pictured above (Uncle Mike's QD 115 Sling Swivels (1-1/4-Inch)
) which is exactly what you need for this job.
For the front mount, I used the machine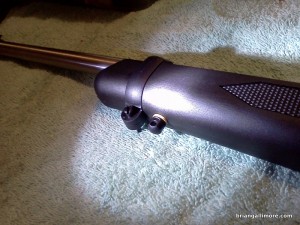 threaded stud with a dab of low-strength threadlocker.  I did have to shorten the bolt by cutting about half of it off.  I choose to place the stud behind the barrel band and leave the band in place because I didn't like the look of the fore-end without it, and I figure it is designed to have the band installed anyway for reasons unknown by me.
For the rear, I used the wood threaded stud,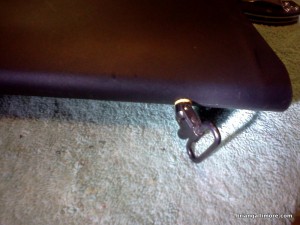 but didn't bother with trying to use epoxy.  It looked like I had more then 1/4″ of plastic, and the stud seemed very sturdy.  So it was a simple task of drilling a hole and threading the stud.
I like to splurge for the extra-beefy mil-spec Uncle Mikes swivel mount on the front, but go with the wire hoop on the rear to accommodate a M1/M14 style sling, which is my favorite style sling.
I am going to have to buy a new set of sights for this rifle.  I hate the stock Ruger sights.  The front sight is too tiny to focus on and the rear sight has multiple notches that provides a confusing silhouette so you instinctively don't know how to aim.  The Tech Sights are my favorite, and the price is fair.