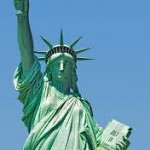 Snippets from Ken Emanuelson's post:
https://www.facebook.com/ktemanuelson/posts/10150944734806145
NO ONE WILL SAVE YOU.

The above five words may come across as ominous, or even despairing. They are, nonetheless, absolutely true.

Barely a week goes by that we don't all come across messages lamenting the state of our culture, our communities, and our nation. They often begin with "Somebody ought to…" or "They really need to…" or "The Tea Party should…"

If you're the type to engage in that sort of lament, here's a news flash for you:

THERE IS NO "SOMEBODY." THERE IS NO "THEY."
Why do I obsess over the subject of liberty?  Because I think I have to.  I don't understand why everyone else doesn't seem to care.
We could wish in vain for valkyries who will never arrive, or we can join the heros who are already on the battlefield–but we must, in any case, never forget these five words:

NO ONE WILL SAVE YOU.

You can read those five words as a lament, or you can read them as a CHALLENGE–to join everyday heroes in a fight to save our cities, our counties, our states, our nations and our world.

We call upon all who share our love of liberty to stand up and fight for the God-given rights you claim to believe in–and to fight today, tomorrow, and every day, until the battle is won or the last breath departs from our lungs.

There may come a time for apathy or despair, but this is not that time.

Let us not look back on these days with REGRET for what we failed to do, but rather with PRIDE for all that we managed to do with our brief time on this mortal coil.

WHAT we do is up to each of us–but conscience and providence demand that we take action–and time is wasting.

There are candidates across our land who have stood up and spoken out boldly for the principles we claim to believe in. They need our help. Whatever you're able to do, they can put your time to good use.

Act. Speak. Walk. Volunteer. Call. Write. Fight.
____

"Whatsoever thy hand findeth to do, do it with thy might…" – Ecclesiastes 9:10