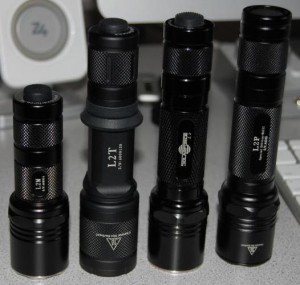 Several people have asked about the excellent and inexpensive flashlight that I have, so I figured it was time to compile the 'best of' information that I had.  Most/all of the research comes from my friend Mouth.  The flashlights we decided to go with have these features:
Use a Cree XM-L LED (this is the best LED I know of)
Use a "P-60" style drop in – size of reflector / lamp assembly, which is the most common  (this is a clone of the SureFire 6P lamp assemblies)
Use an 18650 rechargeable lithium ion battery (best battery I know of) which is roughly the size of 2 CR123 batteries.
Candlepower forums has a wealth of information if you have time to wade through the mountains of posts.
There are endless options when looking at these gadgets:
Modes: refers to how many brightness levels or flashing modes the light has.  For most of the P60's, you can adjust, program, or change out a part to have a 1 mode (on or off), a 3 mode (3 brightness levels), or a 5 mode (3 brightness levels, strobe, SOS flash)
Orange Peel – Smooth: refer to the texture of the reflector.  Orange peel randomizes the light beam some.
Tail Switch / Foward Clicky, Reverse Clicky / Momentary / Tactical:  refers to how the switch works (if the mode selection is made on the on stroke or off stroke).  Some buttons are recessed so the light can sit upright on a hard surface, some are poking out so you can easily squeeze them with your thumb.
Protected Cell:  The rechargable cells are offered with a built in circuit to prevent overheating / charging too fast / discharging too fast.  These cells are a little bigger and sometimes don't fit in bodies that aren't over sized just a bit.
T6 and U2: refer to the 'bin' the LED was sorted to after manufacture.  The U2 is slightly 'better' quality.
Operating Voltage: be sure you match the power supply requirements with the battery combinations being used.  A single 18650 battery is 3.7 volts, but you might someday be tempted to use 2x CR123 batteries if your rechargeable cell is dead, which would be 6 volts.  If you used 2 rechargeable cells, the voltage would be 7.4 volts.
We decided to go with the L2 series from Solar Force.  They have a good reputation for a high-quality products and good prices.  There are also cheaper knock offs of the Solar Force products that are being sold… I suspect I have one of them (purchased from kaidomain), and the quality of it is good also, but not as good as the real deal (and the real deal is a copy of the Sure Fire).  The flashlights can be pieced together or purchased as a complete unit.  Here are a couple of good options: