And when I say successful, I'm using it in the same sense Tom Hanks did in the movie 'The Green Mile' after they electrocuted that guy without any water on the sponge.  The quadrasteer motor and gearbox block access to a couple of the differential cover bolts.  Not a big deal, but I used one of my fancy GearWrenches in a way that left the wrench stuck on the bolt, wedged between the gearbox, with no way to get the bolt in or out.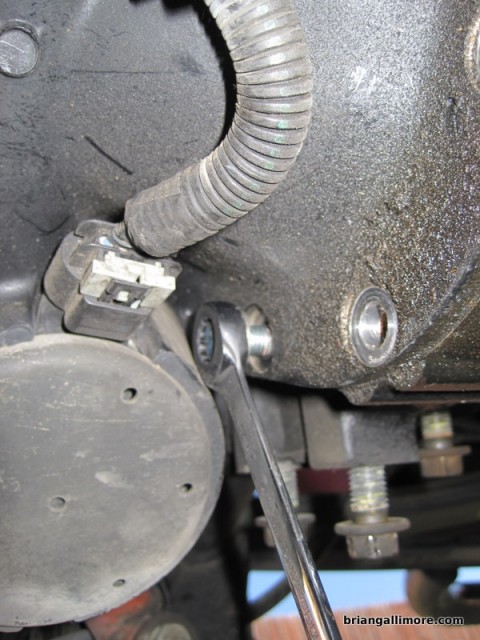 I wound having to cut the bolt off.
Once I removed the axle shafts, I could tell I had a big problem.

I was all worried that I wouldn't be able to get the carrier out since I didn't have the special housing spreader tool.  Turns out it fell right out under its own weight once I removed the bearing caps.  The shims were non-existent.  I'm guessing they were eaten up in the gears.  The ring-side bearing was a mess.  I'm glad I finally decided to take care of this, because I'm sure it would have failed in a ugly way soon.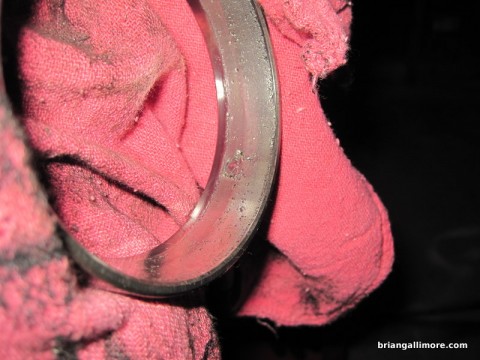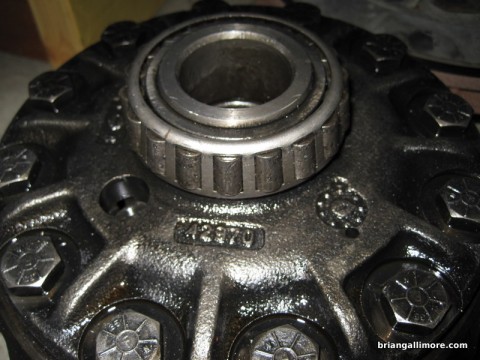 Getting the pinion out was a big pain.  I gave up trying to hold the block of wood in one hand and hit it with a sledge hammer held in the other hand.  I decided to sacrifice the pinion nut and beat away with both hands.  The problem was that I distorted the nut so bad I couldn't get my socket back on it to get it off.  I finally persuaded it to work the way I wanted it to, again, with the sledge hammer.
One last complaint:  My impact wrench didn't have enough ass to get the skid plate bolts or the caliper bolts loose.  I think this is because of the super thread lock compound used to assemble these parts with.  They were NOT going to come off under natural causes.
NOTE:  to see all my posts about the Dana 60 Axle, click here.