I've listened to a few podcasts from a guy named Dan Carlin. He only publishes an episode of his podcast every 10 to 14 days.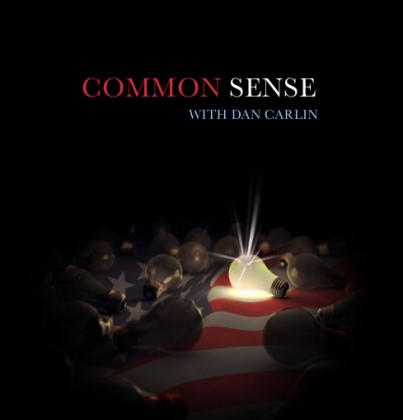 "Common Sense with Dan Carlin" is a blend of audio commentary and news analysis by one of the leading thinkers among today's politically independent crowd. Author, reporter and talk show host Dan Carlin takes a look at the issues in the news through the prism of his traditional American "forward-thinking pragmatism" while pushing a fiscally conservative, socially liberal approach to solving problems. Whether he's railing against the "Fat Police", explaining the existence of "The Chicken Little Gene" or continually bringing up historical events no one has ever heard of, Carlin manages to be entertaining and informative in a uniquely non-partisan way. His style has been compared to Seinfeld's George Costanza on steroids. Whether that's true or not, he does often talk really fast. You'll have to keep up.
Dan explores concepts in politics and current events that are fascinating to me. I want to go listen to more of his older episodes now, some pretty thought-provoking material! I recommend you add this podcast to your listening list.