I'm making an effort to utilize a few social networking web tools that will replace some of my blog activity:
DIGG
"Digg is a place for people to discover and share content found on the web. From the biggest online destination to the most obscure blog, Digg surfaces the best stuff as voted on by our users. You won't find editors at Digg — we're here to provide a place where people collectively determine the value of content. In doing so, we're changing the way people consume information online."
Rather than post articles on my blog that I find interesting, I might choose to just "digg" it. When I do, the news article (or website, or whatever it is) will be recorded in my profile, and the "digg count" of the item will increment by one. This will show up in the sidebar of my website, and on my digg profile, and in my digg rss newsfeed.

DELICIOUS (formerly del.icio.us)
"Delicious is a social bookmarking service that allows users to tag, save, manage and share web pages from a centralized source. With emphasis on the power of the community, Delicious greatly improves how people discover, remember and share on the Internet."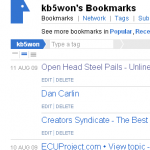 I've moved all my bookmarks to this online service. Anyone can view/search my bookmarks. If you've heard me yammering about something in the past, chances are good I'll have a bookmark for it here! Each bookmark is "tagged" with key words, and the website keeps a tally of how many users have bookmarked the site and displays a popularity number with each bookmark. My delicious bookmarks are here.
FACEBOOK
I think everyone knows what this is, since it is the #3 world wide website now. Invaluable for keeping up with your family and friends, my profile is here.
YOUTUBE
I'm starting to use youtube more now. I've found several users who I "subscribe" to, and regularly view content from. Many people predict online user submitted video will replace broadcast television one day. I can see why people think that, you get to pick exactly what you see. The "in response to" and "video comments" features are especially useful.
—
I hope to somewhat cut down on the amount of posts I make on my blog site, keep things here more personal, but I still want to interact and share things with people who are interested. I hope these tools will fit this need for me. Any feedback in this area is welcomed. -Brian