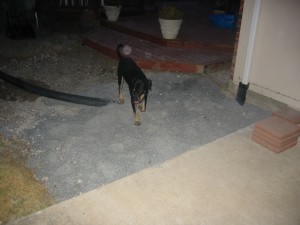 WOW, the "dirt" at my house is terrible. It is more like a hardened clay mixed with huge rock, kind of like concrete! My goal is to dig down 10 inches or so to remove all the soil and replace it with a material that will make a good base for paver stones.
Previously, I removed all the vegetation (scraped off the layer of grass) and added it to my "future garden" area. When the grass breaks down, it makes good dirt. My brother spent the whole weekend helping me out. He built two new raised beds in the back of the yard, so we would have a place to store the dirt we removed. It is tough to get work done in the 104 degree heat, but we managed to get most of the area dug out to the correct depth. I picked up a cubic yard of "screenings" to use as my base. It looks like I am going to need two more yards of material before I will be ready to lay out the stones.
I am burying drainage pipe that will take away rain water from the roof. Eventually, I will have the pipe travel down the length of the backyard and empty out into the alley.