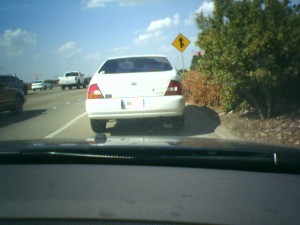 On the way home from work yesterday (in stop-and-go traffic) a car behind us was not able to stop in time and smacked my rideshare's Volvo in the ass end.
The driver didn't speak English.
He didn't have a driver's license, nor U.S. identification.
He claimed it wasn't his car, and didn't have any insurance.
The car had dealer tags.
The Plano police came out, and soon found that the paper tags on the car were not valid. The officer confiscated the tag.
After an hour, the officer said we could leave. The non-English speaking no-insurance having, illegal car driving visitor to the U.S. was still there…
I can't help but to think about the cost involved in this very minor accident:
1- personal cost = insurance deductible + lost time to take care of it all
2- government (tax) = police time of officer, paperwork, impounding of vehicle, what to do with the guy…
3- what else?