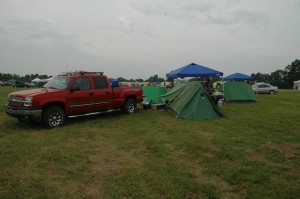 After spending two weeks out of town, working nights to start up a system, I came back for one week to prepare for the "world's largest paintball event", Oklahoma D-Day. We traveled up to the northeast corner of Oklahoma by 3pm on Friday. The campgrounds were already packed. There were thousands of tents, trailers, campers, and RVs. We found a decent spot right in the middle, away from the roads and porta-potties. After some time debating the optimum layout of camp, we finally managed to get everything set up, and headed to headquarters for orientation and check in.
We cruised the vender area, and found some great deals, sat through the video, received our hopper covers, then back off to camp to eat dinner. I was pretty excited and didn't get to sleep until about 1am.
5am came before I knew it. Time to get up, cook breakfast, get my equipment ready, get dressed, etc. We met up with the 21st Panzer Commander, who hauled us out to the base in his "tank". We started pretty slow, providing support for other divisions as needed, but usually getting called out to a new mission before we saw any real action. We were close to losing the Utah beach just before 11am, so we hustled down to help defend… I wish I realized the rapid decrease in elevation on the way to the base. We easily defended the base, and I now faced a climb up what appeared to be Pike's Peak. I had run out of water, so I stopped at the water buffalo at the base of the mountain to refill. I had to take off my equipment vest, remove my air line, just to get to the water bladder, got everything situated, then started up the mountain (in the 100 degree heat) slowly. I reconnected the quick disconnect air line to my marker, and psssshhhhhh, spewing air everywhere…. damn, I just fixed the remote kit, and now it broke again. Somehow the tiny o-ring inside the quick connect came out… no where to be found.
I finally make it to the top of the mountain, almost dead from exhaustion. I felt like I was going to die. I go to the dead zone to sit down and rest, and try to fix my air situation. After 45 minutes, I feel up to giving it another try. I head over to Omaha beach, to see if I can find some action in the trenches. Oh boy, did I ever find some action. I went though all the paint I was carrying, picking off people as they tried to make it up the Atlantic wall. What fun! Some guy that was an excellent shot managed to tag me in the head by shooting between the slats of a barricade I was bunkered behind. …back to the dead zone. After that hike, I was feeling bad again. I decided to call it quits and head back to the camp before I killed myself for real.
I spent the rest of the afternoon trying to keep cool and drinking lots of water. I didn't feel like moving because I was so tired. One by one, the other team members made it back to camp. We went back to HQ for dinner and the awards ceremony. After that was done "the incident" occurred. (to be described in person when available) Some people are really sensitive about taking pictures of them while sleeping.
I was asleep before 10pm Saturday. A full night's sleep and I was ready to go on Sunday morning. The majority of the players had left, and the game had already been won by such a margin that Sunday play didn't matter. They lowered the respawn time and just let us play with no official objectives. Lots of fun, just plain old chasing after people to take over land and bases. As luck would have it, equipment failure spoiled my fun again. My trusted A5 jammed. Turns out that the ball feeder didn't advance and stuffed two balls in the chute. I made the hike back to camp, and called it a weekend. We packed up and headed back home.
We all agreed that next year, we need a tank of our own… no more hiking around like chumps!